10 Best Something Blue For Your Wedding Or Elopement
The Something Blue Wedding Tradition
We have all heard the rhyme of wearing "something old, something new, something borrowed, and something blue", but where is the purpose of the something blue? 
Historically it has come from a variety of cultures.  The victorian era also included " a sixpence in the shoe" and each momento was to add good luck and fortune for the nuptials. 
The color blue is said to be  representative of "fidelity and love's purity." Making it a popular color to wear prior to the white wedding dress trend.
Other cultures know it as a way to ward off evil spirits,  since it is representative of such things, and adds a layer of protection over the marriage. 
Regardless it is a way to add a little pop of color and nod to a historic way of adding luck to you and your spouse. And so here are some fun ways to combine a little ( or a lot) of something blue to your wedding or elopement.
Blue Jewelry for your Wedding
Whether earrings like these or a lovely bracelet or necklace, you can provide a pop of elegant blue in a subtle and stunning way. 
Or you can take a note from the Queen and have a ring with a blue stone like hers. 
Check out some amazing stone options here, where you can make an amazing custom ring with Brilliant Earth. 
Blue Wedding Shoes
Another favorite way to add a pop of blue is in your shoes. 
Whether they are all blue, stunning blue shoes like these, or even just adding blue laces can be a killer way to nod to the blue without being overtly stated. 
And perfect for a picture, where you can peep a little bit of blue.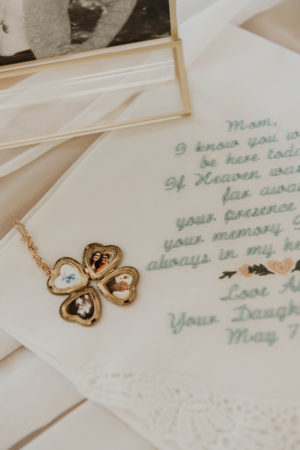 Blue Stitching
Something incredibly sweet is to add a bit of blue stitching.  
Whether it is a stitched on patch with a love note in your suit or dress, or a stitched hanker-chief from a loved one, or even blue stitching of the date on your clothes, it is a sweet reminder and a sweet token. 
I have often seen this from loved ones past, where there is a sweet message to or from their loved one for their special day. 
Make sure to look here for more ideas on honoring past loved ones at your wedding or elopement.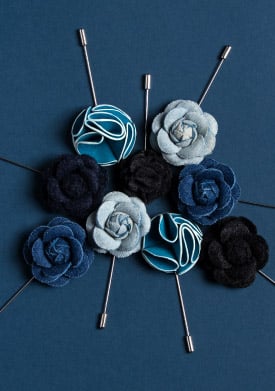 Blue Tie or Blue Tie Pin
Yes we cannot forget about those in suits. 
There are exceptional ways to add a bit of blue here too! 
Whether that is a tie option, cufflink, blue tie clip, or even a pin. 
It is a sleek way to add a pop of color in a suit and have a little fun.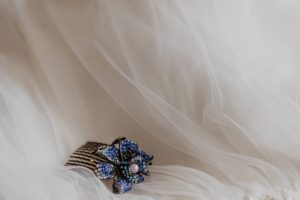 Blue Wedding Heirloom
Sometimes we lump together something borrowed and blue. 
Yet it is so sweet and special if there is an heirloom that has blue that you can combine into your wedding details. 
It is a great way to remember loved ones or even start your own tradition of sharing on your wedding day the same blue heirloom.
Blue Wedding Florals
Whether your color scheme has blue or you end up adding  blue flowers in your bouquet, the boutonnière, or even a single blue flower it can make a statement. 
I love the idea of picking something like this stunning gem of a flower to add, but check out this list of beautiful blue blooms here for more ideas.
Blue Wedding Dress
Yes thats right. I said dress.  Some go for a veil which can be pretty as well, but take a look at this epic wedding dress that has pops of blue actually in it. 
And it is stunning as all get out. Who said you can't bring back the trend of blue wedding dresses when they look like this.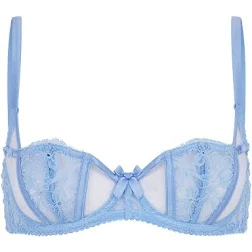 Blue Lingerie or Blue Undergarments
Yes maybe when you think blue undergarments you think of a blue garter ( these ones are stunning), but I like to think a little more out of the box like lingerie.  
Something like the options here offer a variety of items from boxers, lingerie sets, pajamas, and robes. 
All stunning and snazzy and a perfect pop of blue for your wedding or elopement.
Blue Wedding Day Nails
Something simple and small, and can be even as simple as one nail or embellishment, is adding blue to your wedding day nails. 
This example is a little more bold and glam, but a great idea when thinking of making the blue of your wedding day be your wedding day nails. 
Check out more ideas here 
Looking for More Ways to Add Something Special?
Then definitely make sure to take a look a this blog post all about ways to make your day, completely you.