10 Best Wedding Day Gifts For Your Spouse
the perfect wedding gift full of memories
Ah! Your wedding day! 
The day you get to put aside any left over to dos and what nots to just be stoked to marry your person. 
And what better way for your loved one to open something sweet right before seeing you and starting a new chapter. 
Here I have put together 10 perfect wedding day gifts that are sure to show your partner how much you love them and the story of you two.  And hopefully maybe a tear or two 😉 But that is just me being a hopeless romantic.
A Custom Film Strip Of Your Photos for your perfect Wedding Day Gift
Technology is wild.  
So wild that you can put together either your engagement photos, some saucy boudoir photographs, or your favorite memories of you two in this custom film strip as a unique wedding day gift. 
Complete with a song of your choosing or another custom pull tag.  
This is an awesome little keepsake that you can surprise your partner with and makes a perfect wedding day gift that is simple and small but still full of love.
Make a Custom Vinyl of Your Love Songs
Take that playlist of your love story and turn it into a custom vinyl here.
or even these vinyl prints of your vows or first dance song would be stinking cute.  Find them here or here.
If you are an audiophile like my sweet pea and I am, then you probably have a list of songs that cue up memories of hanging out, first moments, or laughing about that you can add in.
Making either a vinyl print or custom vinyl itself a perfect wedding day gift.
Give them a Custom Song and Acrylic Print for your perfect Wedding Day Gift
Speaking of music since were down this rabbit hole already, you can actually commission someone to create a custom song at SongFinch. To top if off why not put it on a custom acrylic print here to make it all the more lasting.
One of my favorite things about meeting with couples for the first time is hearing about how it all happened.  
Sometimes it's a whirlwind and sometimes it is a beautiful story full of adventure and growth together. 
I cannot imagine how amazing it would be to hear your personal story in a song and how perfect a wedding day gift it would be. 
Create a Custom Book for your perfect Wedding Day Gift
Thats right a stinking book. You can feel free to just write a little love journal leading up to your wedding day with love letters that you wrote.  Or you can also make a lovely book here to give to your partner.
The book is rad but letters are also fantastic, as you can pull out another letter on a rainy day and remember the romance and sweetness. 
For my sweet story book lovers (yay fellow romantics !!) This is a sweet way to make a table top book be a perfect a wedding day gift .
Give a Scent to Commemorate the Day
And yes, there is even a whole blog post here about my top recommended scents or you can find them here.  
Scent is a memory giver and can trigger all the feels from different moments of time so what better than to give your partner a scent to commemorate your wedding day. 
That way all the love and feels are just a spritz away in a perfect a wedding day gift .
Surprise them with Special Sunnies for your perfect Wedding Day Gift
Sometimes, it is just way too fun to add a bit of glam on your day.  And if it is going to be a sunny one, why not surprise them with some cute new sunglasses like these.  
Granted I should do a whole post on different sunglasses because they can be just as unique and fun as you two are. 
And then you can get super fun shots like these two. 
A Watch for Counting Down the Moments Till you're Married.
Something like a watch can be a super special gift for those that love and admire them.  They can also be engraved with a love note, names, and/or date. 
You can find some options here or you can actually engrave almost any Fossil watch here as well. 
Gift them a Something Blue ( and shiny )
We have all heard the line " something borrowed, something blue.." as tokens to have at your wedding for good luck. 
So why not gift something blue! And maybe also shiny 🙂 
You know your partner best whether they like bold or simple, and what type but these earrings you can get here ​​are stunning and absolute winners. 
For other "something blue" check out this list here.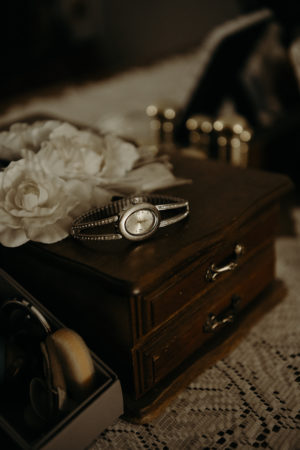 Gift them Something Sentimental
This one is more specific to you and your story.  It could be something typically passed down from your family on wedding days. 
It could be something you asked their family about to give to your partner that you know would mean a lot. 
Honestly the best pwedding day gift , is something from the heart, and full of love.
Give them Art of the Two of You
Something a little more out of the ordinary and tailored to your preference.  For something like this I love the destination engagement sessions, because it can be a stunning landscape with you two in it and become a work of art.  You can custom order something like that here.
Another way you could go with this, is to surprise your partner with a custom day of painter!
I have started to see more and more couples hiring painters for the day of and the results are absolutely stunning! 
You can find help on this here.
Looking for More Ways to Add Something Special?
Then definitely make sure to take a look a this blog post all about ways to make your day, completely you.